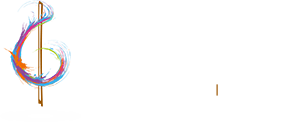 "All about Love" Father's Day Concert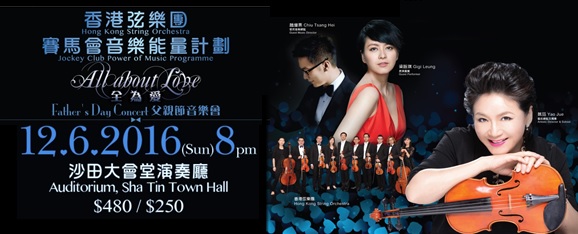 Beautiful Echo of Classical and Pop
Ledby acclaimed Violinist Yao Jue, the Hong Kong String Orchestra will perform a widerange of captivating classic – from the relaxing Canon in D Major, to the breathtaking Libertango. In the second half of the concert, Yao and the Orchestra will co-perform with Gigi Leung. AndChiu Tsang Hei will be the guest music director - showcasing his impassionedinterpretation on pop music and ethereal piano technique. A thriving musicfeast is guaranteed to suit all tastes inthe good times near Father's Day.
12.06.2016(Sunday) 8 pm
Auditorium, Sha Tin Town Hall
$480/ $250
* Post-concert Meet the Artist
Artistic Director & Soloist: Yao Jue
Guest Performer: Gigi Leung
Guest Music Director: ChiuTsang Hei
Programme
« Pachelbel Canon in D Major
« Vivaldi The Four Seasons – Spring and Winter
« Piazzolla Libertango
« A selection of works performed by Gigi Leung
Available at URBTIX NOW!
Credit Card Telephone Booking: 2111 5999
URBTIX InternetTicketing: www.urbtix.hk
Ticketing Enquiries: 3761 6661
Programme Enquiries: 3575 9574
Audience of age 3 or above are welcome.
Running time of the performanceis approximately 90 minutes including an intermission of 15 minutes.
Audience is strongly advised toarrive punctually. Latecomers will only be admitted during theintermission or at a suitable break.
Presenter reserves the right tochange the programme and artists.